The new Premier League season kicks off on 13 August, and fans all over the country are eager to see their teams live again.
As excited as people are to get back into their home stadiums, a lot of fans will be hitting the road for away matches. This got us thinking: which Premier League supporters will travel the farthest to see their team play away from home? And, importantly, how much will that cost in petrol?
A long journey for the Magpies
Even after a decent end to last season, here's a sentence we didn't expect to write – Newcastle, you're top of the Premier League table. And, we're kind of sorry about that.
Newcastle fans will have to travel 8,724 miles to see the Magpies away from home this season. This is over 1,000 miles more than the team in second place, Norwich City (6,554 miles). And if you drive to see Steve Bruce and the team play every away match, it'll cost you around £1,758 in petrol by the end of the season.
Guess who's 'Gunner' save some cash?
Meanwhile, at the bottom of the table, we have Arsenal. If you're reading this Mikel, don't worry, this is a good place to be.
Arsenal fans will only have to travel 3,975 miles during the Premier League season, which'll cost just over £800 in petrol – less than half the price Newcastle fans will have to fork out.
All the London teams are in the bottom half of our table, but it's West Ham's fans that will travel the most out of all the capital's clubs – 4,774 miles (which is £962 on petrol).
You can find your club's mileage and petrol cost at the end of this post.
Keep car trouble away on Premier League away days
The last thing you want on an away day is to be stuck on the roadside instead of sat pitch side. So, before you hit the road, here are some simple steps to make sure your motor gets you to the match.
1. Walk around the car and look for any signs of potential trouble, especially on your tyres and lights
2. Check your tyre pressure and all fluid levels, then top up before your journey (if necessary)
3. Make sure your phone battery is full before you set off – if you breakdown, using an in-car phone charger without the engine running can flatten the car battery very quickly
4. Pack warmer clothes for winter away matches – always keep some warm clothes, a rug, and some comforting snacks in the car in case you get stuck in cold conditions for a long time
5. Oh, and make sure you have breakdown cover…
Whoever you support, best of luck this year!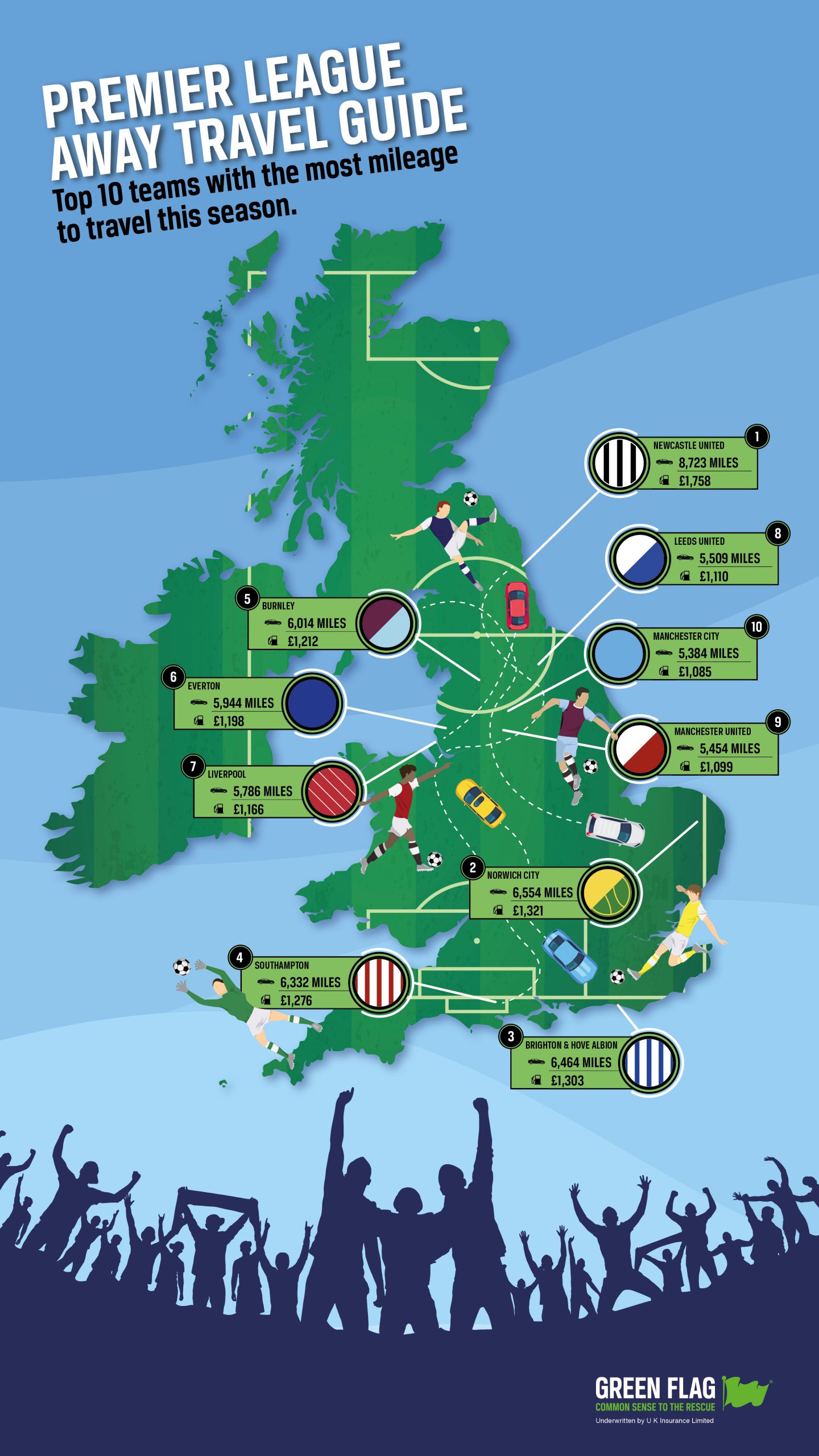 Petrol prices per Premier League team
1. Newcastle United – £1,758.82
2. Norwich City – £1,321.42
3. Brighton and Hove Albion – £1,303.39
4. Southampton – £1,276.73
5. Burnley – £1,212.60
6. Everton – £1,198.39
7. Liverpool – £1,166.62
8. Leeds United – £1,110.81
9. Manchester United – £1,099.79
10. Manchester City – £1,085.49
11. West Ham United – £962.41
12. Crystal Palace – £952.71
13. Wolverhampton Wanderers – £926.18
14. Chelsea – £926.06
15. Brentford – £915.77
16. Tottenham Hotspur – £911.89
17. Leicester City – £883.12
18. Watford – £879.07
19. Aston Villa – £842.06
20. Arsenal – £801.35
Petrol prices calculated using https://journeyprice.co.uk/, as of w/c 26.07.21
Distance travelled (miles) per Premier League team
1. Newcastle United – 8,723.76
2. Norwich City – 6,554.25
3. Brighton and Hove Albion – 6,464.82
4. Southampton – 6,332.88
5. Burnley – 6,014.51
6. Everton – 5,944.01
7. Liverpool – 5,786.44
8. Leeds United – 5,509.60
9. Manchester United – 5,454.94
10. Manchester City – 5,384.02
11. West Ham United – 4,773.53
12. Crystal Palace – 4,725.43
13. Chelsea – 4,600.30
14. Wolverhampton Wanderers – 4,593.83
15. Brentford – 4,542.21
16. Tottenham Hotspur – 4,522.99
17. Leicester City – 4,380.26
18. Watford – 4,360.18
19. Aston Villa – 4,176.60
20. Arsenal – 3,974.69
Distance travelled calculated by mileage between stadiums using https://journeyprice.co.uk/, as of w/c 26.07.21