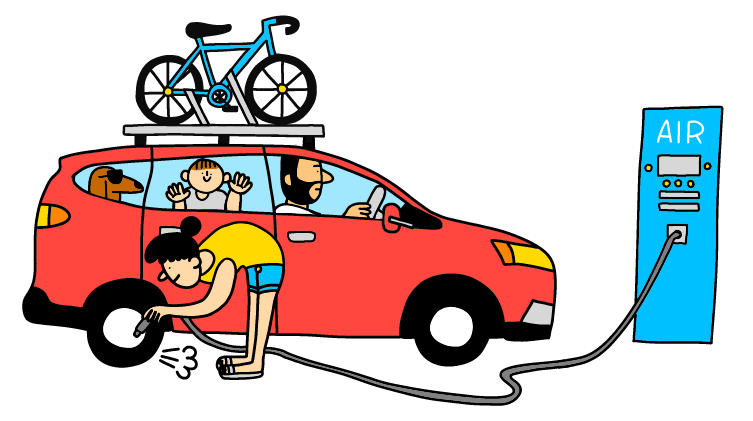 Summer is well and truly here, and we're all excited to get in our (air-con filled) cars and hit the road for a holiday or day trip.
But, a lot of vehicles haven't been on the road much over recent months. This can have a pretty damaging impact on their batteries, tyres and more.
That's why Highways England has put together some simple advice to help all drivers give their motors some TLC.
(Oh, and if you have a Green Flag policy, make sure you read through to the end for something very helpful and totally free…)
Check your tyre pressure before you set off
Highways England says that one in five motorway breakdowns are caused by tyre problems. Low pressure in particular can impact your braking, steering and the overall lifespan of your tyres.
So, it's worth checking your tyre pressure before you set off, just to cut out all the pressure that could come from a break down.
You can find a great guide on how to check and sort out your tyre pressure on the Highways England website.
Next, (tyre) tread carefully
Next up, we need to talk tyre treads.
Once you've checked your tyre pressure, checking that your tyre treads are all above 1.6mm is a must. Similarly to having low tyre pressure, if your tread is below the legal requirement, your vehicle will be harder to drive and your braking will struggle again.
Oh, and you did read that right, it is a legal requirement. So, don't skip this one.
Again, Highways England has a guide on how to check your treads, and you only need a 20p coin to do it. Check the guide out right here.
Keep the checks coming
Hopefully by now you've checked out the Highways England site, because their advice goes beyond tyres. It's also really important that you check your lights, oil and screen wash. As before, their website as handy guides on how to do all this.
Get a free vehicle health check
Highways England's advice will help you look after your vehicle. But, if you're looking for that professional touch, we're able to offer free vehicle health checks to anyone with a Green Flag policy, with help from our friends at Who Can Fix My Car.
The free check covers:
Tyre tread depth
Tyre pressure
Oil level
Water level
Washer fluid
Battery health
Wiper blade condition
Brake condition
Lights
Bodywork corrosion
It's a great way to make sure your vehicle is in a safe, roadworthy condition before your next trip.
To get your check, visit the Who Can Fix My Car website. Enter your postcode to search for garages in your area where the check is available. Once you've selected a garage, you'll be able to arrange a time and date that works best for you.
Terms and conditions
Only available to Green Flag policyholders (you'll need your policy number when you book your check)
Only one vehicle health check per policy
Limited availability of 3,000 checks
Checks available before 30/09/2021
If you end up requiring repairs, you'll be responsible for payment directly to the garage
Excludes Highlands and Islands
Offer subject to availability, and we reserve the right to stop this offer at any time