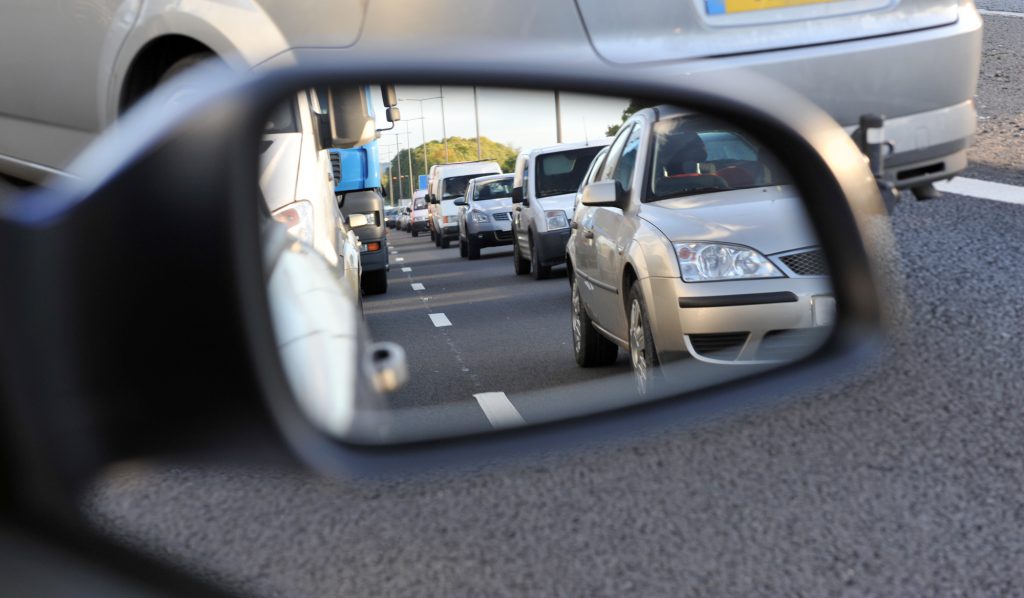 The debate on how you merge into moving traffic when the lane you're driving in closes is a fierce one. Do you stay in the closing lane to the very end, then merge in turn with the traffic in the open lane? Or do you move out of the closing lane as soon as you possibly can?
It's a bit like whether you put cream on a scone before the jam or vice versa. Or perhaps even more fundamentally, whether you pronounce the word scone like 'own' or the other way. The law states that we should merge in turn, better known as zip merging. Yet only around a quarter of drivers (27 per cent) know this is the correct thing to do. Read on to find out why people who stay in the closing lane aren't doing anything wrong.
What usually happens
You're on a dual carriageway or motorway and you see signs warning that a lane is closing. Most of us – seven out of 10 according to a survey by Halfords – believe we should get into the lane that is staying open as quickly as we possibly can. This can result in hundreds of metres of perfectly usable carriageway lying empty. On top of that, 3 per cent of drivers actually think it's OK to spread their car over two lanes to stop anyone else using the empty lane. That's nearly three quarters of drivers (73 per cent) who're wrong.
What the Highway Code says
Rule 134 of our road legislation states: "You should follow the signs and road markings and get into the lane as directed. In congested road conditions do not change lanes unnecessarily. Merging in turn is recommended but only if safe and appropriate when vehicles are travelling at a very low speed, e.g: when approaching road works or a road traffic incident. It is not recommended at high speed."
What does that mean in practice?
If you're in the lane that's closing, stay there. Drive in it for as long as you can, then flick on your turn indicator and when it's safe to do so, merge with the traffic in the open lane. Ideally, each driver in the open lane should let one driver from the closing lane in.
Why don't we do this?
If the law states merging in turn is what we should do, why don't we do it? Candace Gerlach from Green Flag believes it could be down to our nationality. "As Brits, queuing is in our culture," she says.
"We like to queue and we've been brought up to think that being polite is the way forwards. That's great but it doesn't mean we should abandon the lane that's closing immediately. And it doesn't mean that anyone who's making use of that lane is being rude. Britain is a small country with relatively crowded roads and we need to make use of as much of any open carriageways as possible. Merging in turn when it's safe to do so enables us to do exactly that."
What's the science behind it?
Traffic engineer Ken Johnson from Minnesota in the US has conducted research into the pros and cons of zip merging. He discovered three main benefits:
With two full lanes of traffic, the speed differential between lanes is reduced. With all traffic travelling at roughly the same speed, making the move from closing to open lanes is easier and safer.
As all the available road is being used, the length of the queue is reduced by up to a half (40 per cent is common, according to Johnson.)
With both lanes moving slowly and at similar speeds, everyone is disadvantaged. Drivers may not be happy that they're in a jam but they can see everyone is in the same boat. The result? They don't get as angry with other drivers, reducing the number of road rage incidents.
It's not a perfect scenario but it's making the best of a bad job and crucially, people moving in from the closing lane aren't delaying people in the open lane or stealing any secret benefit. Ken Johnson explains: "Our analysis has shown that the zipper system has no effect on travel time. And it produces a much safer merge situation, making the length of the overall queue much shorter."
There you have it: zip merging doesn't penalise anyone. As Candace Gerlach claims: "We are saying: 'come on guys, let's start a movement'. We want to try to change people's behaviour to embrace zip merging rather than frown upon it."