If you've broken down, you can use the Green Flag app to track your technician as they travel to you. And it only takes a couple of taps.
Here's what you need to do.
After you've booked your rescue, you'll see a screen like this.
When your technician is on the way, the 'Track my rescue' button will appear. Just give that a tap and you'll see…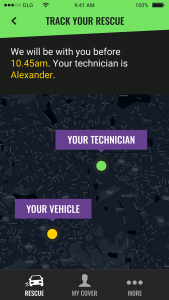 … a map just like this. It wil regularly update you show where your technician is in comparison to you and your vehicle. It will also let you know when they are expected to arrive.
Please note, in some instances, depending on the technician and your location, you may not be able to use this feature of the app.
So, just to be safe, we'll also send you texts and push notifications (if you have them turned on) to let you know when your technician is on the way, and to keep you up to date with their estimated time of arrival.