Need some help logging into your Green Flag app? Well, you're in the right place.
If you've forgotten your app account password or email, don't worry, it happens to us all. That's why we've put together this handy guide explaining how to update your password, and what to do if you can't remember your email address.
Just follow these steps and you'll be back on the app in no time.
Your app may look a little different to the screens below, but the steps will still be the same.
---
Updating your password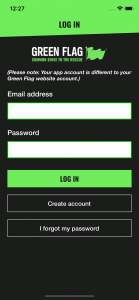 Tap the handy 'I forgot my password' button.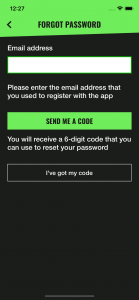 If you know your app account's email address, type it in at the top.
Tap 'Send me a code' and check your emails. You should receive an email from us with a six-digit code slap bang in the middle of it. Don't forget to check your junk / spam folder, just in case it's there.
Once you've got your code, head back to the app and tap on 'I've got my code'.
If you don't know your email, scroll down this page to see what you need to do.
Enter your six-digit code in the boxes at the top of this screen, and type in your app account email address one more time.
Then you can enter your new password. Just make sure it follows the rules you see at the bottom of the screen. Repeat your password just to be safe, tap 'Reset my password', and you're sorted!
From there, you can just log in to the app using your email address and your shiny new password.
---
Forgotten your app account email?
If you can't remember your app account email, the easiest way to get you back into the app is to create a new account.
You can use any email address you want when setting this new account up.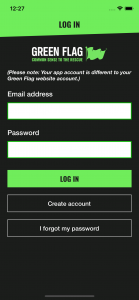 First thing's first, tap on 'Create account'.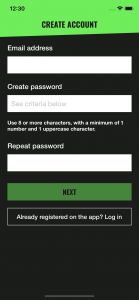 Put in the email address you'd like to use for your app account, alongside a secure password. Make sure your password follows all the rules, because trust us, whoever said 'rules are meant to be broken' never tried getting past our password security.
Type your password out again just to be safe, then continue.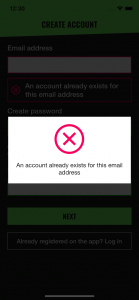 You may see a message like this pop-up. If you do, then it means the email address you've entered is already on our records.
So, you have a choice. You can still create a new account with a different email address. Or, you can go back and try to log into the app using this email. The chances are, this is the email you forgot.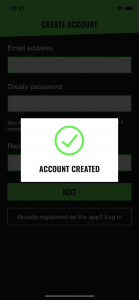 If we haven't got the email address you've used on our records already, then you should see a nice little message like this. And it's good news; your new account has been created.
Your next step will be to link your Green Flag breakdown policy with your new account. Thankfully, this is nice and easy, and the app will explain everything you need to do.
If you need any further help, give our dedicated app team a call on 0345 878 6614.