To be able to request a rescue on the Green Flag app, you need to have a policy linked to your app account first.
If you haven't already created your app account, we have a guide on how to register right here.
If you've got an app account, here's how to link your policy.
Please note, our app is not available for Excess and Fleet policies, or for vehicles registered in the Isle of Man.
Your version of the app may look slightly different to the images below. But, the information and the steps will be the same.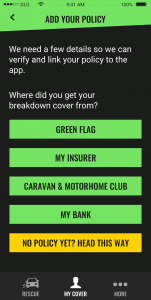 First thing's first (as it often is), tap where you got your breakdown cover from.
Green Flag: you bought your policy from us directly (either online or over the phone).
My insurer: you have Green Flag breakdown cover as part of your insurance.
Caravan & Motorhome Club: you're a CAMC member with MAYDAY Breakdown cover.
My bank: you have breakdown cover with us that's provided by your bank.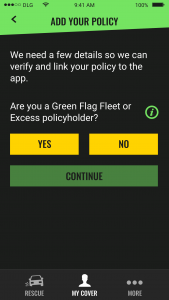 If you selected 'Green Flag', you'll see this message.
Currently, we're not able to add Fleet or Excess policies onto the app. If you're unsure what Fleet and Excess policies are, you can tap the small 'i' icon for more information.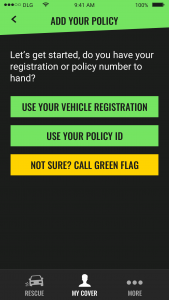 If you selected 'Green Flag', 'My insurer', or 'Caravan and Motorhome Club', you'll see this screen.
To confirm your policy details, we'll need either your vehicle registration number or your breakdown policy ID. You can choose whichever is easiest for you.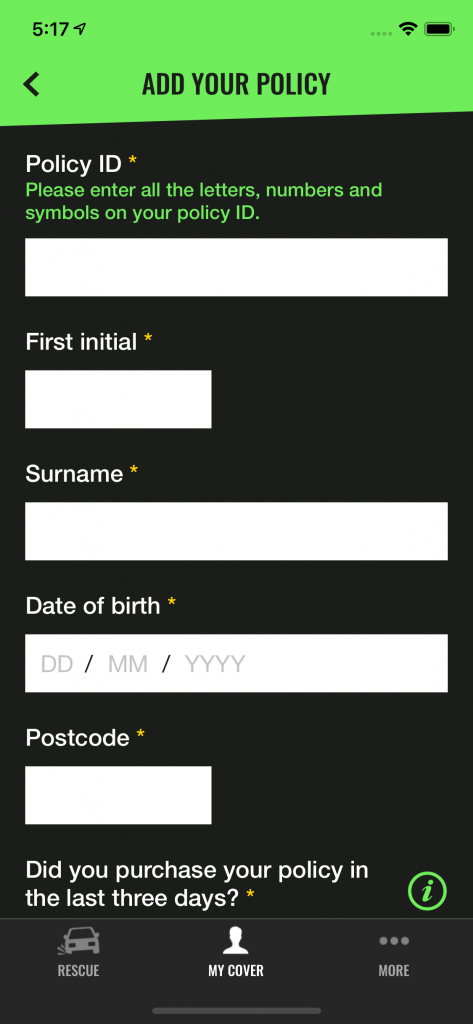 Depending on your previous choices, this screen will either ask for your Policy ID or your vehicle registration.
If you use your Policy ID, you just need to type in the number. You don't need to include any letters (such as GF/) that you may see before the number on your documents.
If your policy is from your bank, this screen will be a little different, and will ask for some information linked to your bank account itself.
Alongside this, you'll need to let us know some other details. This is so we can make sure we're safely linking the right policy to your app.
Please note, after you add your policy, it can take up to three days for your policy to appear on the app.
You can add your policy before its start date. However, it'll still take up to three days from your start date for it to show on the app.
We'll make sure to update you as soon as it's ready to go.
If you need to know how to arrange a rescue, read our detailed step-by-step guide here.