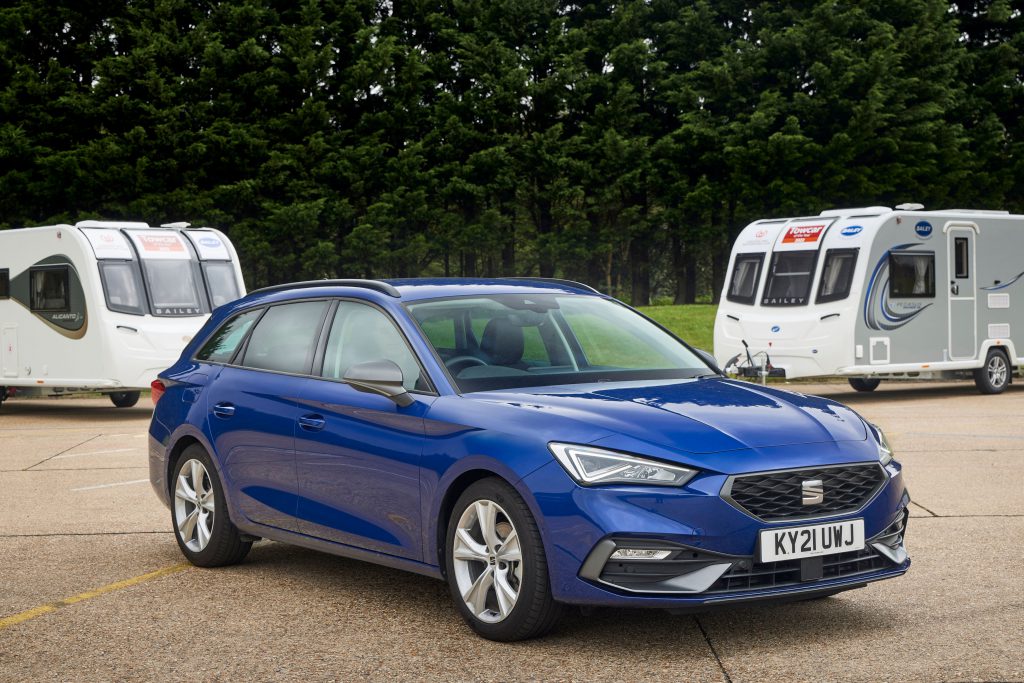 If you've considered caravanning as a holiday you're not alone. Numbers taking holidays in caravans were increasing even before the pandemic. And in some months during 2020, caravan sales increased by up to 70 per cent compared with previous years.
To help drivers pick the best cars for their caravanning needs, the Caravan and Motorhome Club (CAMC) holds its Towcar of the Year competition. To find the winner of this year's award, it tested 32 cars in 11 categories. It then narrowed these down to one overall winner. Read on to see the best cars for towing.
What was the best car for towing?
This year's overall winner was the SEAT Leon FR 1.5TSI. Judges praised this small family estate car's 1.5-litre petrol engine which they said had a decent turn of speed and coped well with inclines on their test route. They also liked its decent-sized boot and comfortable cabin.
How were cars judged?
The panel of judges split the cars into seven caravan weight categories. According to the CAMC judges, doing it this way makes it easier for buyers to pick cars suitable for their caravans.
Categories included caravans weighing less than 1,100kg; then rising by 100kg increments up to the 1,500-1,700kg class and 1,700kg and over. There were also classes for plug-in hybrids, family, large family and pick-up trucks.
Cars were tested towing on a twisty route with various gradients. They had to perform a hill start and join fast-moving traffic from a standstill. The strength of their brakes was even tested down a hill and their stability during high-speed manoeuvres was also rated.
In addition to how well the cars drove, judges tested how well their boots could cope with the bulky accessories normally needed on a caravan trip. They measured how high the tow ball was (an important factor for how easy it is to hitch up) and checked the information provided about towing in the cars' user manuals.
Which cars did well?
Unlike previous Towcar of the Year awards, where Skodas have dominated, in this year's competition, there's a healthy variety of makes and models. That said, the VW Golf that won the 1,200-1,300kg category and the VW Arteon Shooting brake that took the 1,400-1,500kg class honours do share the same 2.0 TDI diesel engine.
And the overall winning SEAT Leon and VW Golf in the weight category above it use the same mechanical base. Clearly the VW Group knows how to make a winning towcar!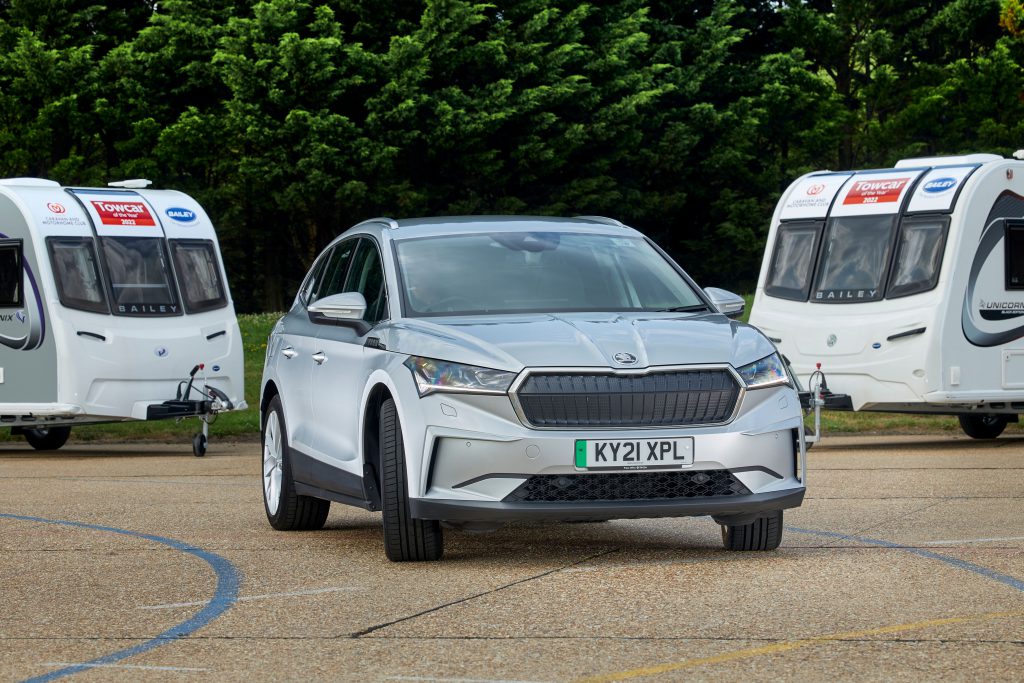 Were there any surprises?
Just as electric cars are becoming increasingly popular with buyers, so they're playing an ever-more important role as towcars. CAMC director general Nick Lomas said: "We've been receiving an increasing number of enquiries about the technicalities and practicalities of towing with hybrid and electric vehicles so it's fantastic news we are seeing a boom in competition entrants and winners in these categories."
This was the first year when the category for caravans weighing less than 1,100kg was also devoted to electric cars. The winner was the Skoda Enyaq iV 80, a fully electric SUV with a claimed range of 331 miles. More surprisingly, the all-electric Volvo XC40 Recharge, a compact SUV, was voted best tow car for caravans weighing 1,500-1,700kg.
The best car for caravans weighing more than 1,700kg was the Porsche Cayenne E-Hybrid. This is a performance SUV with a 0-62mph time of just 5 seconds and a price tag of £71,040.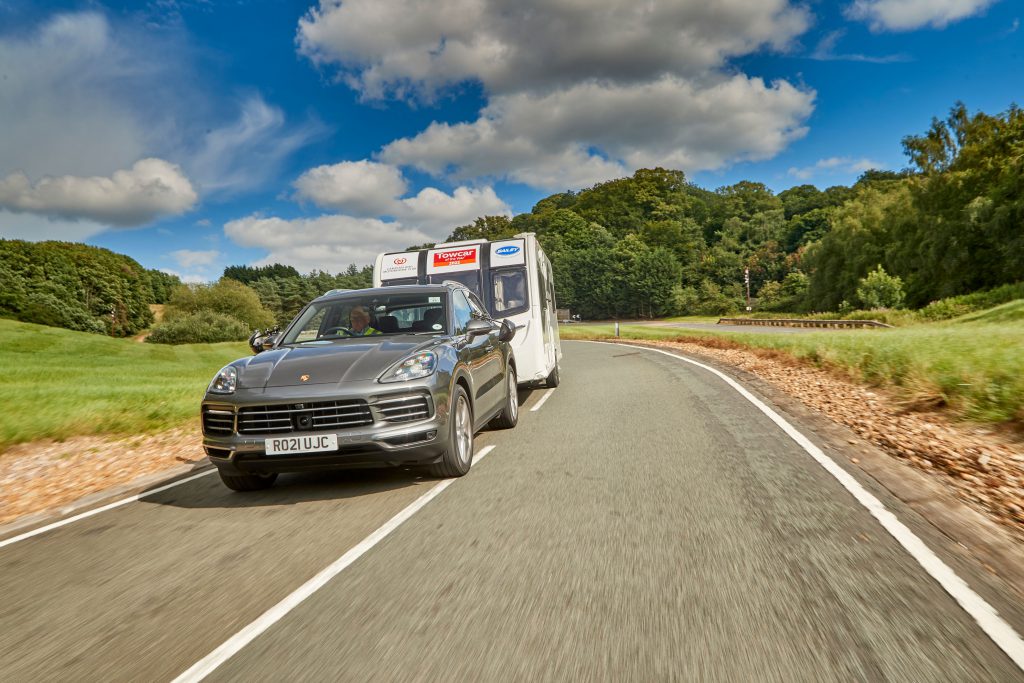 | | |
| --- | --- |
| Category | 2022 Winner |
| Caravan weight under 1100kg & electric vehicles | Skoda Enyaq iV 80 Lounge 82 kWh 204 PS DSG |
| Caravan weight 1,100-1,200kg & OVERALL WINNER | SEAT Leon Estate FR 1.5TSI 150PS |
| Caravan weight 1,200-1,300kg | Volkswagen Golf R-Line 2.0 TDI 150PS DSG |
| Caravan weight 1,300-1,400kg | Nissan Qashqai Tekna+ (Xtronic) |
| Caravan weight 1,400-1,500kg | Volkswagen Arteon Shooting Brake R-Line 2.0 TDI 200PS DSG |
| Caravan weight 1,500-1,700kg | Volvo XC40 Recharge pure electric AWD |
| Caravan weight over 1,700kg | Porsche Cayenne E-Hybrid 8-Speed Tiptronic S |
| Plug-in hybrid vehicles | Volvo V60 Recharge plug-in hybrid T6 AWD |
| Family towcar | Ford Kuga ST-Line X Diesel mhev |
| Large family towcar | Ford S-Max FHEV ST-Line |
| Pick-up | SsangYong P Musso Rhino Auto |