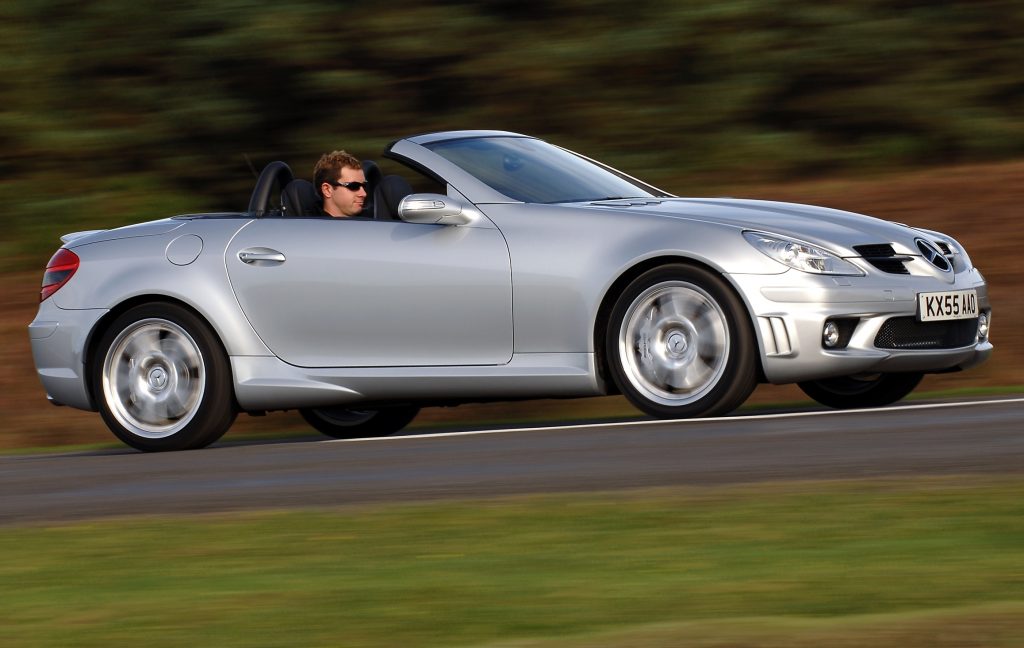 With the hoped-for arrival of hotter weather, many drivers' thoughts turn to buying a convertible. Here we look at the country's five best-selling convertibles. But rather than forking out for a new one, there are plenty of used bargains to be had with some models selling for hundreds rather than thousands of pounds.
Mercedes SLK
This was the car that started the modern trend for folding hard tops. Although the first generation model was far from perfect, the concept was clearly right because Mercedes is still making the SLK 20 years on. And as with the Mazda MX-5, there are models to suit all budgets.
Why choose this
The SLK was top of the UK's best-selling convertibles list last year. And it makes a popular used buy largely because it wears the Mercedes badge. It might not be the last word in entertainment when it comes to the driving experience. But the SLK is a stylish looking car that offers the wind-in-the-hair thrill of a soft top when the sun's shining; the solid practicality of a coupe when it isn't.
What to look for
Around £1500 can buy you an SLK in decent nick. But there's plenty to be wary of. The door windows drop to form a better seal with the roof. However, the window stop can fail meaning you won't be able to shut the door. The roof can fail too, although this is usually due to a faulty rubber interfering with sensors and can be easy to fix.
Cheap models to go for
Be wary of the prices some sellers ask for their SLK. Such was the furore around their launch that new models sometimes went for premium prices. If you can afford it, go for the slightly later SLK230 model. The engine is smoother than the 200's.
Mazda MX-5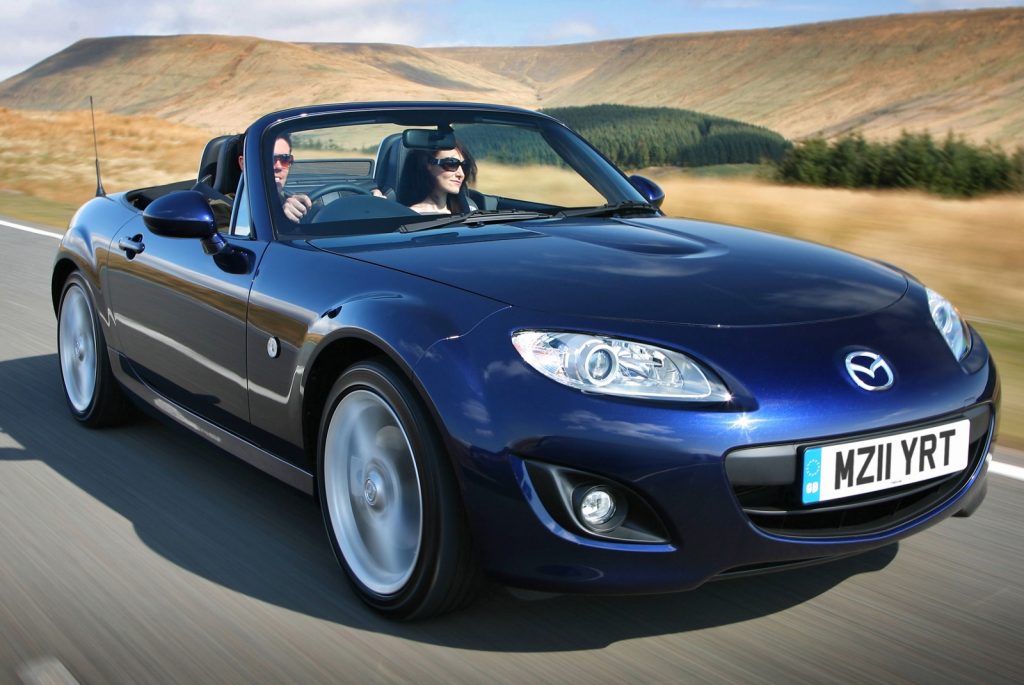 It's the world's best-selling roadster and the beauty of the Mazda MX-5 is that it's now been around for so long that there are models to suit all budgets. The MkI was launched in 1989, the MkII in 1998, the MkIII in 2005 and the latest MkIV last year.
Why choose this?
Whichever MX-5 you go for, you'll enjoy a car that's great fun to drive in the rawest sense of the word. Move through the generations and they get more practical with more comfort but no less fun. They also have near legendary and bullet-proof reliability.
What to look for
Whatever money you pay, there's no need to settle for a tatty version. Even £1000 will buy you a decent car. But the less money you want to spend, the more vigilant you need to be. At the budget end of the market, you're looking for cars that have an MOT, are mechanically sound and above all, structurally strong.
Cheap models to go for
Rust-proofing the underneath wasn't on Mazda's list of priorities when it built the MX-5. Therefore the imported Eunos version, which would have spent the early part of its life in Japan where they don't salt the roads in winter, can be a smart choice among older cars. Models to avoid are the later 1.6 with just 88hp and some base models that don't have power steering. Spend around £4000 and you'll pick up a decent MkIII model.
MINI Convertible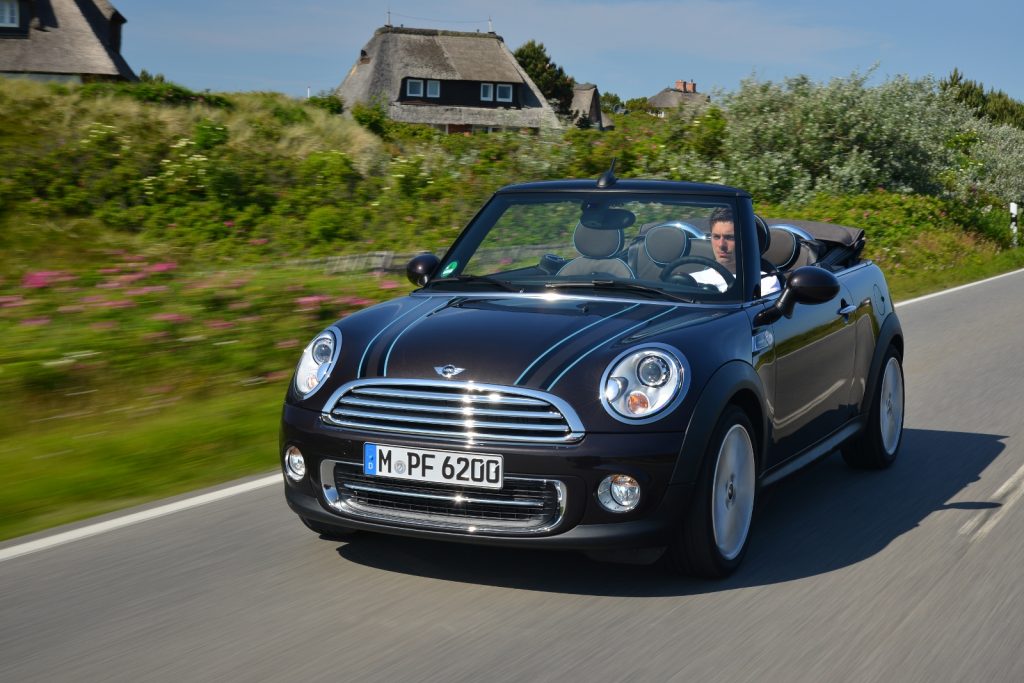 On the face of it, the MINI is a compromise between an urban runaround and a best-selling convertible. But compromise has negative connotations and there's nothing negative about the MINI.
Why choose this?
The MINI's compact dimensions make it easily manoeuvrable around town. The cabin feels well-built and the cloth hood is electrically operated. There is also seating for four, although leg room in the back is so restricted no adult will thank you for making them sit there. Other let downs include a tiny boot and poor rear visibility when the roof is up. But the trade-off is a car that's very nearly as much fun to drive as the go-kart-like hatchback.
What to look for
The MINI Convertible was launched in 2004. This model wasn't renowned for its reliability. Look out for strange noises from the steering, central locking that doesn't work and a temperamental fuel gauge. The second version, launched in 2009 was superior in many respects: more reliable, easier to see out of and had better fuel economy.
Cheap models to go for
Although you can pick up a MkI MINI Convertible for a bit less than £2000, you may be buying a whole heap of trouble. If you can push the budget, MkII prices start at around £6000.
Mercedes E-Class Cabriolet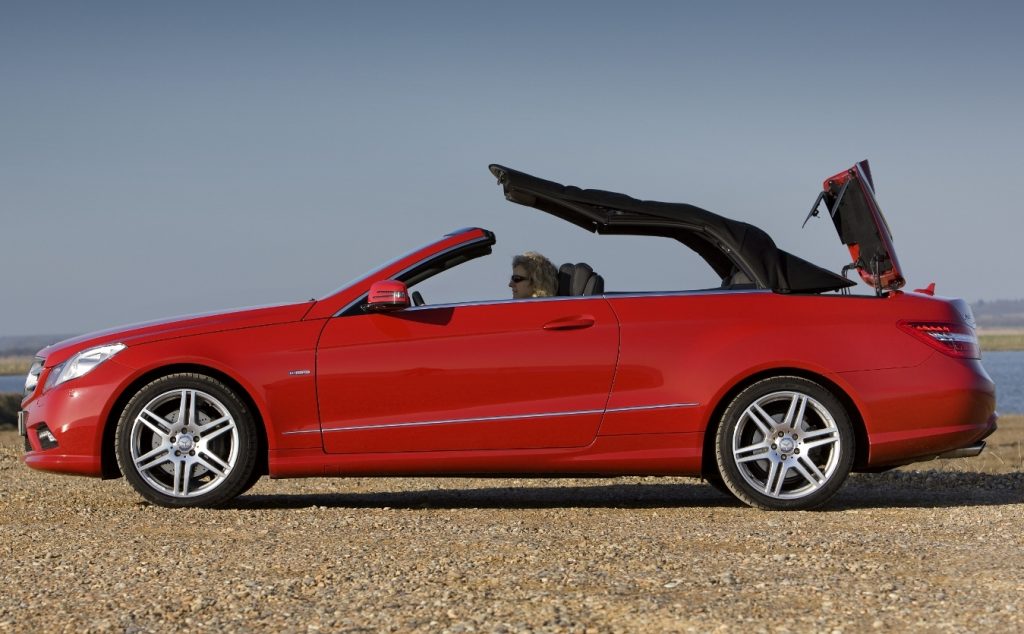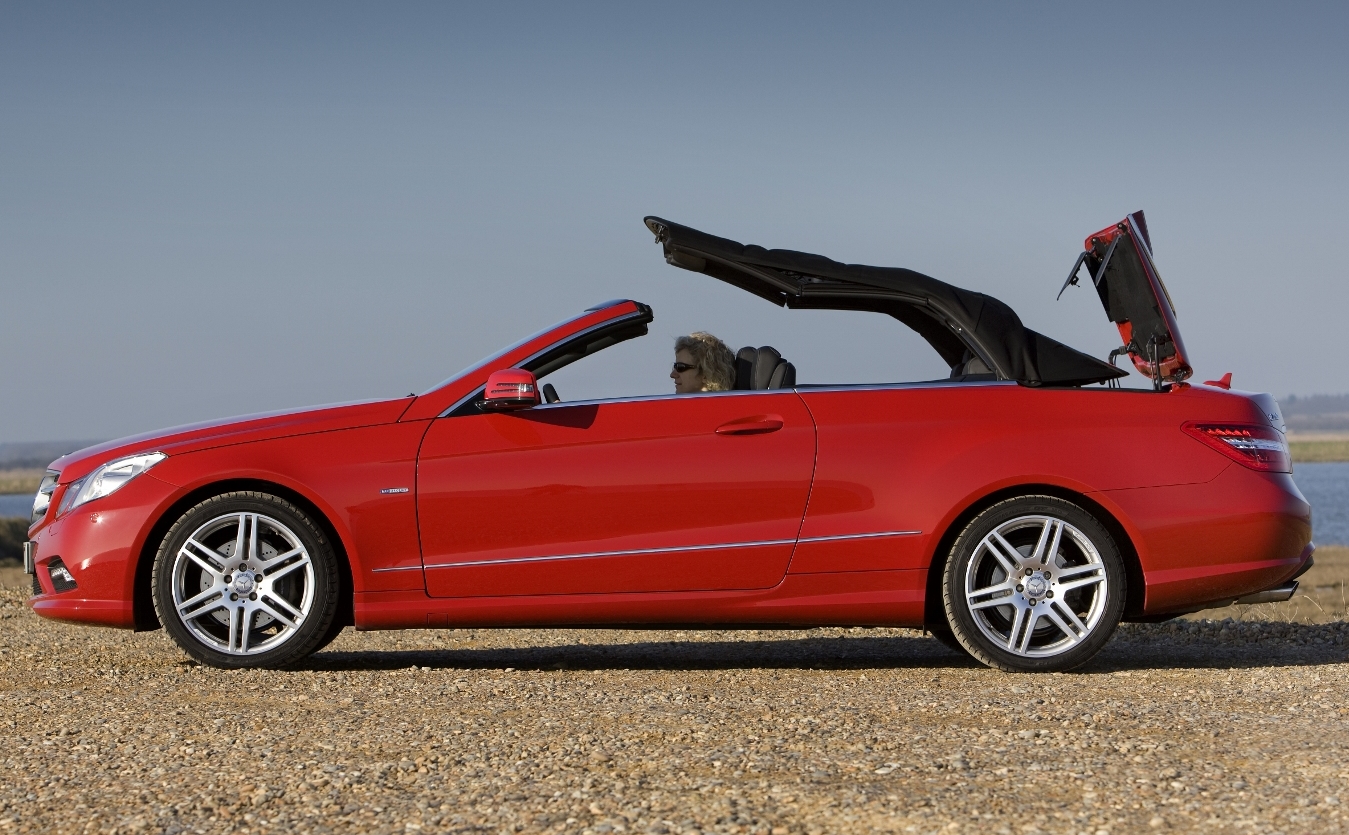 Mercedes-Benz has a long tradition of building large and comfortable convertibles and the E-Class Cabriolet falls into that bracket. Its popularity now is doubtless due to company car buyers and cheap leases because the E-Class is an expensive car new. However, there is a wide choice of cars on offer.
Why choose this?
Whichever generation of E-Class you buy, it will feel reassuringly chunky, have seating for four and a decent-sized boot. But as with the vast majority of convertibles, when the roof is dropped, boot space diminishes. And the rear seats are a pretty blustery place to be when travelling at speed. For the driver, progress will be effortless thanks to a range of powerful and increasingly efficient engines.
What to look for
Check the exact specification of any model you're interested in. As with many German cars, the E-Class can have a miserly amount of equipment. On the other hand, it can be very well specified with adaptive cruise control and reversing cameras. Reliability of the latest generation of E-Class Cabriolet appears very good.
Cheap models to go for
Unless it's an insurance write-off, you're unlikely to find such a thing as a cheap E-Class. However, there is a wide variety. If you're after something classic, we found a 1994 E320 for £11,950. For another £3000 you could buy a 2010 10-reg E350. And £21,995 will buy a 62-reg E250
BMW 3 Series Convertible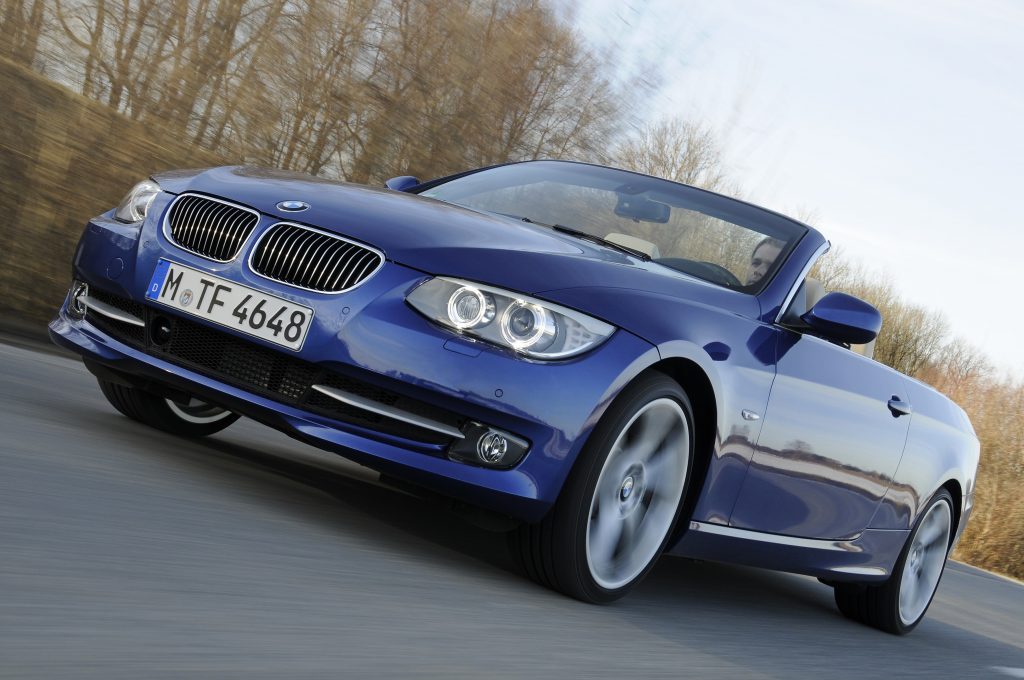 The latest BMW 4 Series is really a 3 Series by a different name. And if you remember that you'll find an enormous range of used models on offer.
Why choose this
BMW is unsurpassed at making cars that are well built, comfortable, but still brilliant to drive. Like the 4 Series Convertible, the 3 Series models (known as the E93 in BMW speak) were launched in 2007 and feature a range of silky smooth engines. There's also a chassis that can handle whatever power is thrown at it, seating for four, and more recently a clever, lightweight folding hard top.
What to look for
Basic reliability of BMWs is good and the 3 Series Convertible is no different. However, the 320d has a reputation for destroying its turbocharger, which could prove disastrously expensive. The best way to avoid this is to ensure the car you buy has been regularly serviced to the manufacturer's schedule. Other problems to look out for include failed air-conditioning and worn front suspension.
Cheap models to go for
You can buy the E36 BMW 3 Series Convertible (two generations previously) for around £1500 if you fancy something cheap to buzz about in and enjoy for the summer. But as with any premium car, the BMW is a complex beast so it makes sense to go for the most expensive model you can afford. Spend £11,000 for example and you will get a 2007 325i Convertible from a BMW dealer.
Fancy something a bit different? Read our convertible buying guide