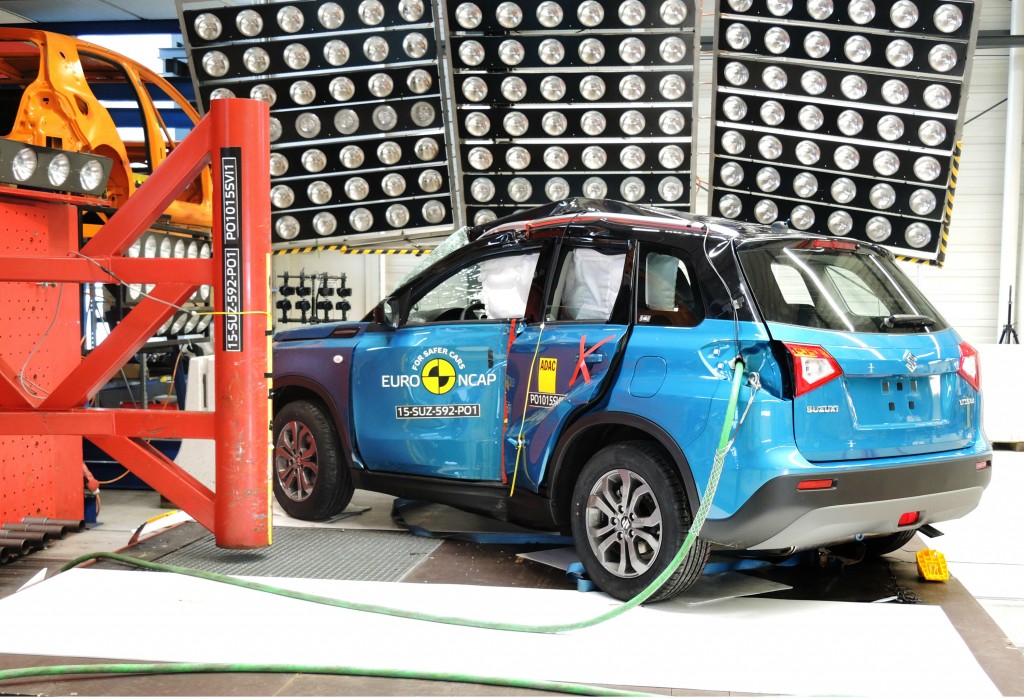 Even if you're as handy behind the wheel as Lewis Hamilton, Britain's three-time Formula One World Champion, and drive one of the most sophisticated supercars money can buy, accidents can happen. Fortunately for Hamilton, no one else was involved in his slightly embarrassing car crash in Monte Carlo. But it shows that a moment's loss of concentration could lead to a costly crunch. In such an event, which are the safest family cars in an accident?
Euro NCAP (New Car Assessment Programme) is an independent, not-for-profit car safety organisation that subjects most new cars to simulated accidents and measures how well they'll protect passengers and pedestrians.
Most popular models of car are smashed to smithereens in a series of tests that recreate the most common, real-world crashes. Four examples of each model are required for the tests, and the organisation buys them anonymously. Scores are awarded for overall performance, as well as individual ratings for adult, child and pedestrian protection.
Lately, Euro NCAP's work has taken account of the latest electronic driving aids, which are designed to help prevent an accident happening in the first place. An additional individual score, called 'safety assist', is given for this area.
These, then, are the safest cars in their respective classes – judged on their overall rating.
Safest small city cars (2014 rating)
1. Hyundai i10
2. Toyota Aygo / Peugeot 108 / Citroen C1
3. Renault Twingo
The Hyundai i10 city car is a seriously tough cookie with an overall score of four stars. It performs particularly well in the pedestrian tests. In joint second position are the Toyota Aygo, Peugeot 108 and Citroen C1. Essentially, the same car, designed and built as part of a joint collaboration between the Japanese and French car makers, they are just as safe for the driver and passengers as the i10, but not pedestrians. And in third position comes the Renault Twingo.
Safest supermini cars (2015 rating)
1. Honda Jazz
2. Mazda2
3. Hyundai i20
The Honda Jazz is best known for being a reliable supermini that offers Tardis-like interior space. But it's also super safe. It performed best of any small car subjected to the 2015 Euro NCAP crash tests, especially for adult protection. In second place was the Mazda2, which does a great job of looking after pedestrians in the event of an accident. Just behind was the Hyundai i20.
Safest compact family cars (2015 rating)
1. Suzuki Vitara
2. Renault Kadjar
3. Hyundai Tucson
The crash test dummies haven't had much time for a tea break this year, judging by the number of new compact SUVs launched in 2015. Safest of the lot was the Suzuki Vitara, with an above-average child protection rating giving it the edge over the otherwise broadly similar Renault Kadjar. In third place was the Hyundai Tucson, which just pipped the Mazda CX-3 onto the podium.
Safest compact family cars (2014 rating)
1. Nissan Qashqai
2. Nissan Pulsar
3. BMW 2-series Active Tourer
The compact family SUV is flying off the shelves like freshly baked bread, and leading the way is the Nissan Qashqai. So it's good to know that it's also the safest car of its type to be tested by Euro NCAP using the 2014 testing methods. In second place was the Nissan Pulsar, a small family hatchback rivalling the Ford Focus. It's a surprisingly practical, if slightly dull, family car. And finally the BMW 2-series, the German car makers first people carrier, is the third safest compact family when it comes to the crunch.
Read more: Stressed drivers and how to stay calm at the wheel