In Top Gear Season 22 Episode 1 the trio are back! Have you missed them? Now screened around the world in real time, this is the 22nd series of the show that features three men in their own words "cocking about" – although judged on the first episode, there's less of that following the team's rather hostile reception in Argentina. 
In the Patagonia Christmas Special, Jeremy Clarkson, James May and Richard Hammond had to be evacuated from Ushuaia, in Tierra del Fuego, after word spread that they were in town, the same port that the General Belgrano warship sailed from before being sunk in the Falklands War.
Jeremy Clarkson later wrote in The Sunday Times that, after keeping their heads down in a hotel it was clear the presenters and production crew needed to make a hasty exit: "…something was causing more and more people to arrive at the hotel. Twitter was rammed with messages from locals saying they wanted blood. One said they were going to barbecue us and eat the meat. "Burn them. Burn their cars," said another. Mob rule was in the driving seat."
By contrast, the most controversy we saw in episode one of Top Gear season 22 was that it's not a good idea to ride a bicycle over tram lines, and the £180,720 Lamborghini Huracán is not as exciting as it could and should be. Further on, and we found out what Ed Sheeran fans already know: that he is a thoroughly good bloke.
The team carried out an 18-mile race across the Russian city of St Petersburg. What did it prove? Well, if nothing else, that cycling across a city or trying to pilot a hovercraft through ancient canals are very good ways to work up a sweat. James May, on the other hand, showed that driving an electric car helps you keep your cool – possibly because, on his Renault Twizy, there were no windows in the doors.
Here are five other facts we learned from Top Gear Season 22 Episode 1…
Piloting a hovercraft is not easy
Clarkson named his vessel HMS Awkward, but judging by the amount of perspiration he was generating, "Awkward" didn't quite do justice to the impression that his "hovervan" was about as obedient as a tiger with a temper.
However, if you are someone who likes a challenge, then turn your attention to eBay and the Marlin III. For £13,000, manufacturer Flying Fish says its two-seat, four-stroke-powered hovercraft is "insane amounts of fun" and will make the owner wonder why they ever considered a jet ski. Better still, to our eyes at least, it appears to be a lot less complicated to operated than Clarkson's "hovervan".
Tram tracks and £9000 Pinarello racing bikes don't mix
In fact, tram tracks and any bike you care to mention don't mix. Richard Hammond was sent flying by a tram line in St Petersburg, after failing to cross it at right angles, and his Pinarello F8 racing bike – yours for £9,598.99 – smashed its expensive electronic Campagnolo derailleur to smithereens.
Hammond is not the only MAMIL (Middle Aged Man In Lycra) to literally fall victim to tram tracks. The problem has become so serious in Edinburgh – where 60 cyclists are pursuing cases through the courts – that the council has produced a video to show riders how to deal with trams and their tracks.
Speed camera alert!
It's called the Hadecs3, and hundreds of drivers have been caught breaking the 70mph speed limit by the new generation of stealth speed camera. The bad news is that as more motorways are upgraded to smart-motorway status, where electronic message signs vary the speed limit, so they are likely to be fitted with Hadecs3. The camera is forward and rear-facing, doesn't require white road markings and is a small, grey box that's difficult to spot. As Jeremy Clarkson noted, Hertfordshire police force won't reveal whether they offer any leniency above the 70mph speed limit – such as when accelerating slightly to pass a slower car – because it is not in the public interest to do so. If you drive on the M25, M1, M6 and M60, beware, Hadec3 is out there…
The hottest cars of 2015
Hammond chose the Ariel Nomad, Clarkson went for the new Honda NSX and May picked the 2016 Ford GT. Then the arguments began. The Nomad is a modern-day beach buggy and an all-terrain version of the Ariel Atom, a car that rearranged Jeremy Clarkson's face when he tested it on Top Gear, way back in Series 5.
Honda's new NSX will take on the BMW i8 when it goes on sale in 2016. But the first 100 destined for the UK are already sold out, and Honda UK does not know whether it will be able to get its hands on any more. And then there is the new Ford GT. Built from carbon fibre and using a twin-turbo V6 engine, its mission is to show Ferrari how to make the best sports car in the world. Go behind the scenes and see how it was developed here.
Buy a used Lamborghini Gallardo and have more fun than in a Huracán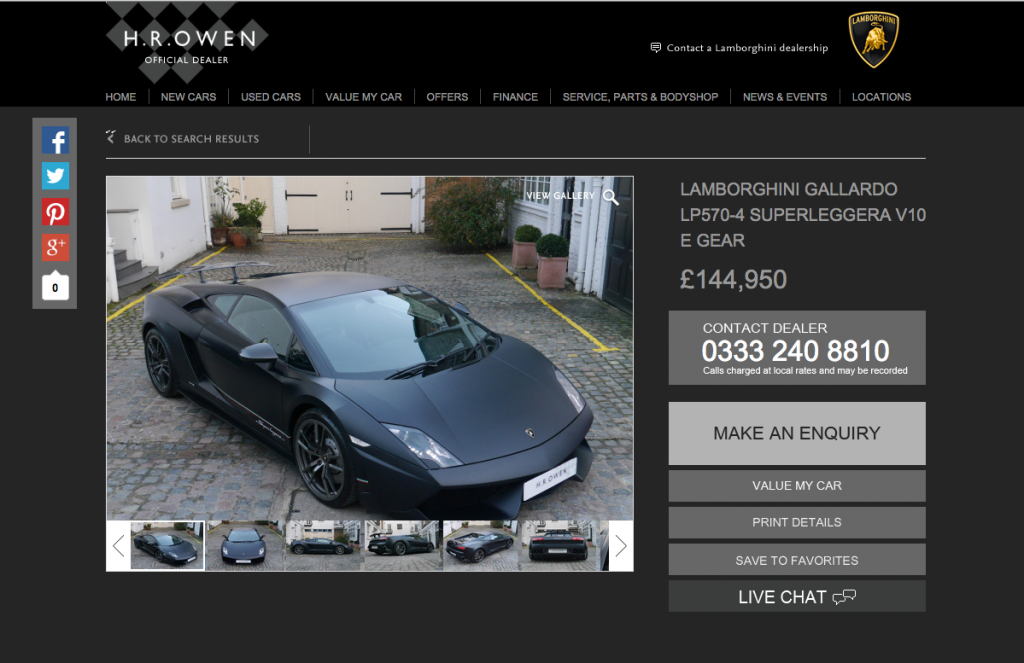 Richard Hammond wasn't exaggerating when he made the point that the new Lamborghini Huracán had lost some of the visceral thrill that used to come hand in hand with any Lamborghini. Fear not, supercar buyers; a used Gallardo Superleggera like this one can be yours for, er, just £144,950 (a saving of nearly £40,000 over a Huracán) and its savage character means that no matter what speed you drive it, this car will stand your hair on end and set your pulse rate soaring. It's also rare and could become highly collectible.