There's nothing car makers like better than to experiment. They do this with models called concept cars and in 2015, there was a raft of these launched at motor shows around the world to catch the eye, set off camera phones and fill social media feeds. Here is our pick of the six craziest concept cars of the year.
The Honda we wish they'd make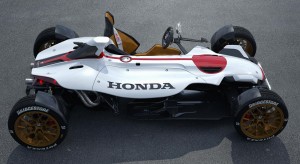 What happens when you cross a motorbike with a car? You get the Project 2&4 (above) of course. This won a design competition within Honda who decided to make a one-off, full-size model of it. It takes its looks from the company's 1960s Formula One racer and with a high-revving motorbike engine it has a noise to match its looks. It's unlikely ever to be produced. If it was, imagine the fun to be had sitting that low to the ground in such an open cockpit.
The Hyundai that's a game changer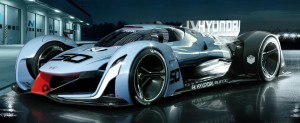 You don't associate Hyundai with swoopy supercars – that's normally the job of Ferrari or McLaren. But in 2015 that all changed. If the N 2025 looks straight out of a computer game, that's because it is. This was designed specifically for the Gran Turismo PlayStation racing game. Then Hyundai made a full-size version to show off at the Frankfurt Motor Show in September. There was one area where it approximated reality: the N part of its name is a preview to a forthcoming performance arm from Hyundai – think BMW M cars but, Hyundai hopes, one better.
The wardrobe on wheels

For drivers who seek practicality above all else, the Daihatsu Noriori makes a lot of sense. Although you'd never describe its looks as sleek, it is designed for function rather than form. Those doors might make it look rather like a wardrobe crossed with a train carriage but at least they make getting in easy. The Noriori sits low on its wheels too. This enables it to ride close to the ground meaning the ramp for wheel or pushchair access doesn't have to be too steep. Could this be the ultimate family friendly motor?
Six wheels on my wagon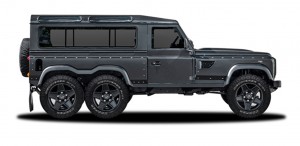 If a regular SUV isn't big enough for you, what about a stretched Land Rover with six wheels? To proffer power to all those tyres, the Kahn Mission 1 has got a 430bhp 6.3-litre V8 engine. Compared with the regular Defender it's based on, the Mission 1 is 1.2m longer and thankfully features upgraded brakes on all six wheels. Tickle your off-roading fancy? Expect prices to start at more than £175,000.
The world's fastest car just got faster…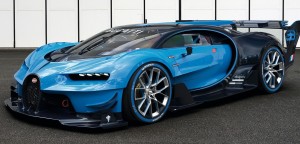 It's no coincidence this Bugatti looks so much like the Veyron. Although it was designed for the Gran Turismo video game, when it was revealed at the 2015 Frankfurt Motor Show, this car was mooted as possibly how the successor to the legendary Veyron might look. Now Bugatti has announced that the next generation of hypercar will be called Chiron, and it will make its debut at the Geneva motor show in the Spring. It may have a hybrid powertrain that's greener than the Veyron's, but don't think it's going to slow down. The Chiron is expected to have nearly 1500bhp – more power than 15 Ford Fiestas. The world's fastest car is about to get a whole lot faster.
The inside-out car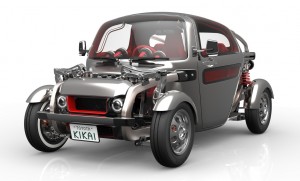 Enjoy taking a peak beneath the bonnet? The Toyota Kikai has all the oily bits that are normally hidden from view exposed. The fuel tank, exhaust and engine are on show. There's even a window down by the driver's feet so you can see the tyres, suspension and road. Other oddities include sliding doors, three seats, large toy-style analogue displays and a complete lack of the computer screens that are so common in cars today. An old-school, back-to-basics hot-rod style car then. We like.