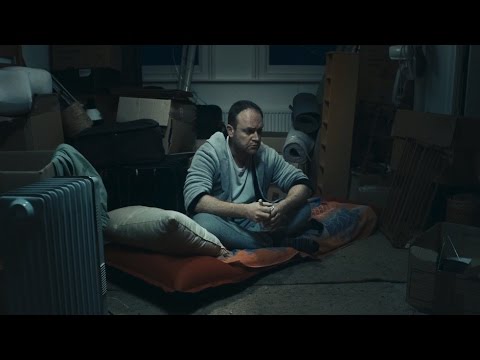 It's a scenario familiar to many drivers: the phone rings and it's your wife asking to be collected from the train station. But you've drunk more than one glass of wine with dinner and you're not really sure whether it's a good idea to get behind the wheel.
It isn't. At least, that's the message from Think!, the road safety campaigning arm of the Department for Transport (DfT). Its seasonal Christmas driver safety adverts remind drivers that they mustn't give in to peer pressure to drink and drive.It also tells drinkers that they shouldn't pressure drivers into joining them for 'just one more' before they hit the road. It comes in response to DfT figures that show the number of casualties in the UK caused by drink drivers increased in 2014 compared to the previous year.

We see 'Brendan' sitting miserably in the spare room at home after 'Sandra', his wife, calls from the train station late in the evening, asking to be collected. Having enjoyed dinner with a couple of glasses of wine, Brendan teeters on the brink of agreeing to collect Sandra, before changing his mind and saying she'll have to make her own way home. Cue much colourful language from Sandra, and the doghouse for Brendan…

How many of us have been there? And how many of us can relate to 'Malcolm', the office junior whose boss is keen for him to join him in one more drink before Malcolm drives them home from the pub? Saying no might mean he gets lumbered with photocopying duties at work, but it also means he's avoiding taking a needless risk on the road.
If it feels familiar, then share the witty Think! videos across your social media and help spread the word that, as ever, drinking and driving don't mix well. The campaign uses the hashtag #butalive.
The videos' message has been conceived to address the increased risk associated with driving after consuming alcohol. According to Think!, a second drink can double the chance of a driver being involved in a fatal accident.

Many drivers believe they'll be safe to drive after 'a couple' of drinks. However, the Department for Transport stresses that drivers and passengers alike can't know how much alcohol a driver can consumer and remain below the legal limit.
For England, Wales and Northern Ireland, that limit is 35 microgrammes of alcohol per 100 millilitres of breath, or 80 milligrammes of alcohol in 100 millilitres of blood. In Scotland, it's lower still, at 22 microgrammes and 50 milligrammes respectively.
Weight, age, gender and metabolism, how much you've eaten, stress levels and the type and quantity of alcohol consumed all influence how alcohol affects individuals.
There's no excuse for drink driving, even if it's a short trip to the train station of shops. This is road safety campaigners insist it's always best drivers have 'none for the road.'
Those who risk it face being convicted for drink driving. It brings a minimum of a 12-month driving ban, a criminal record and fine, can result in a prison scentence and the endorsement remains on a driver's licence for 11 years. Which is a lot worse than spending the night in the doghouse.
Read more Road safety week: upgrading a car's headlamp bulbs