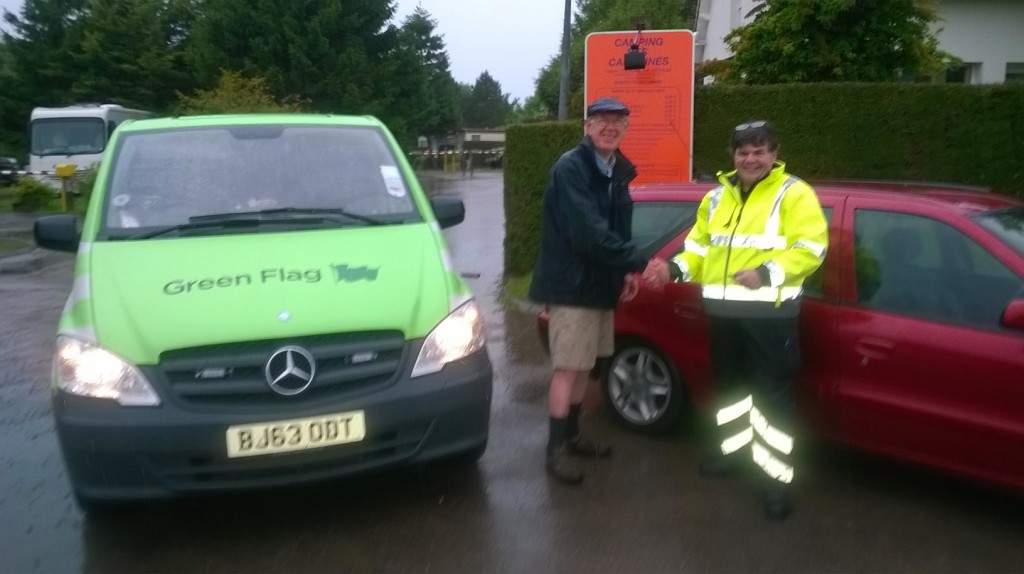 The life of a Green Flag technician is never dull. But for Russell George from Derby it meant an unexpected trip to the D-Day 70th anniversary commemorations in Normandy on June 6. 
Russell's 700-mile odyssey began when Anthony Radcliffe from Chesterfield, Derbyshire called Green Flag to say he'd lost his car keys – at a campsite in Ranville, a half hour's drive from the D-Day invasion beaches in France.
For Mr Radcliffe the lost keys meant his wallet and passport were locked securely in his car and he was stranded with no way of getting home. Fortunately the 78-year-old had our European Breakdown Cover.
Leaving his base in Derby at lunch time, Russell drove to Mr Radcliffe's house in nearby Chesterfield and picked up a spare set of keys for the 2004 Citroen Xsara Estate. Russell and his trusty Mercedes Vito van then motored down to Portsmouth where he made the 11pm ferry bound for Caen in France.
At 7.30 the next morning, Russell met Mr Radcliffe at his Normandy campsite reuniting him with the contents of his car. However the former teacher's troubles weren't over yet. At first his Citroen wouldn't start. Russell quickly found the fault, rectified it, then carried out a full car health check to ensure Mr Radcliffe had a drama-free journey home.
Once reunited with his wife Mr Radcliffe, whose father was in the Royal Navy in World War Two, said: "It was a week for heroic actions and, while not quite in the same league as the D-Day landings, I can't thank Green Flag enough for coming to my rescue."
Russell added: "It was just as well I had my passport on me. You never know what you're going to end up doing in this job! I simply saw it as a fitting way of paying tribute to the heroes of D-Day all those years ago."