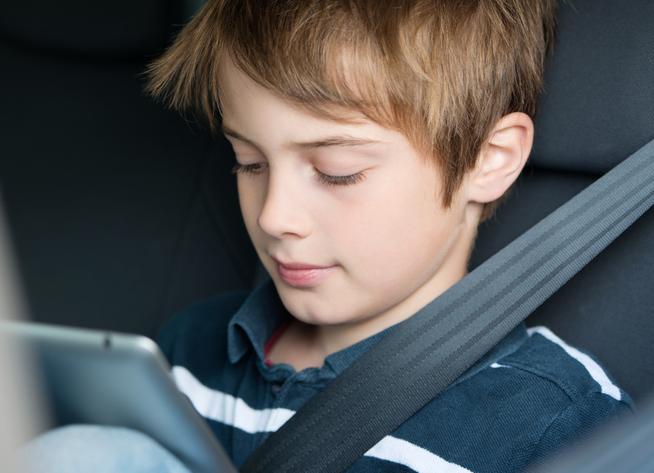 racorn / Shutterstock
If our list of activities to entertain your kids in the car didn't work for your little ones, you might want to resort to handing over your smartphone or tablet. Here we suggest ten of the best games for children. 
1. Angry Birds
No list of mobile games would be complete without the wonderful Angry Birds. Pigs have stolen these birds' eggs, so they launch themselves at pig defences from an oversized catapult. All that's needed is a simple dragging-motion, making this game great for younger kids as well as older ones.
Pros
Very easy to learn, lots of free versions to play.
Cons
The latest game, Angry Birds Go, is massive and will eat up your storage space.
Price
2. Despicable Me: Minion Rush
Based on one of last year's biggest films, this fun game was downloaded 100m times in its first three months. The game is classed as an 'endless runner'  meaning that your character is always moving, and has to avoid obstacles. In this one, based on one of Despicable Me's Minion characters, you must dodge baddies, leap obstacles and collect bananas.
Pros
Simple controls and familiar characters make it fun and easy to play.
Cons
Later levels get difficult, and it's very, very easy for little ones to click and buy extra lives if your security settings aren't up to scratch.
Price
3. 10monkeys Multiplication
One of the best things about mobile gaming, is that educational apps can be disguised as games. This app stars, yes, 10 monkeys who are trapped, and need children to help them escape by working out sums using their times table.
Pros
A bright, fun way to help your children learn multiplication.
Cons
Too difficult for some children.
Price
4. Toy Story: Smash It!
Like a 3D Angry Birds, in Smash It! you play as Buzz Lightyear and destroy building block towers using balls and other items, with the hope of causing those little green aliens from Toy Story to fall onto the floor.
Pros
Good, clean, fun with familiar characters.
Cons
If you opt for the free version, be aware that it only offers a handful of levels, so upgrading is likely if your little ones like it.
Price
5. CBeebies Playtime
This game is as long-lasting, varied and educational as a day in front of the CBeebies TV channel. Nearly all of your children's favourite characters are included – many with more than one game – and the quality of each is phenomenal.
Pros
It really makes the most of your phone's abilities, with games asking kids to tilt, shake and shout into the device.
Cons
It asks kids to shout into the device. Also, if you don't have a particularly nippy processor, your phone may stutter at times.
Price
6. Color & Draw for kids
This app offers a simple colouring book, drawing pad, alphabet tracer and 'photo decorator'. No frills at all, but there are in-app purchases that offer things like more colours, templates and brushes.
Pros
It's incredibly easy to use, and the fingerpaint function is suitable for even very small children.
Cons
The design isn't the best out there and some kids might think it looks cheap.
Price

7. Where's My Mickey?
A physics-based game from Disney, where the player has to help Mickey Mouse collect water. It's wonderfully creative with great graphics.
Pros
If there's a more enjoyable (or better-looking) way to learn about physics, I haven't seen it.
Cons
The free version of the game only has a handful of levels. However, there is a full, paid-for version.
Price
8. Cars 2 Read and Race
This is one of Disney's storybook apps, and is centred on the Cars 2 movie. This app is part story and part racing game, stitching the two together seamlessly.
Pros
An elegant combination of storybook and game, and being able to customise the cars before you drive them is a nice touch,
Cons
This quite expensive. Although, it's still cheaper than the horrible kid's magazines in the supermarket and they'll get more fun out of this.
Price
9. Cut The Rope
Friendly monster Om Nom stars in a handful of games now, but the original is still the best. Players  use gestures to cut ropes and guide sweet's into Om Nom's mouth in this fun, inventive game.
Pros
There's a gentle learning curve, which encourages problem-solving skills
Cons
The full version of the game is only free on Android. It costs to get the game on other operating systems.
Price
10. Pou
Kids get to look after their own little pet alien. With a responsibility to feed, clean and play with their creature, Pou is essentially a mobile Tamagotchi.
Pros
This is a long-lasting game that teaches children responsibility.
Cons
This free-to-play game makes its money from in-app purchases, so make sure your youngsters can't buy items (clothing, new colours) without your permission.
Price